---
Apr
15
Thu
First Baptist Food Pantry and Clothing
Apr 15 @ 9:00 am – 2:00 pm
First Baptist Church in Keokuk has a food and clothing pantry open one day per month. The third Thursday of the month located at 25 North 8th Street. The pantry will be upstars, but there is a elevator if needed. Masks must be worn and only max of 2 people at a time will be allowed in the pantry and clothing area. Hand sanitizer will be provided.
If you would like to make a donation you call the church at 3196-524-3684.
Hours will be 9am-2pm on every third Thursday of the Month.
YMCA Power Yoga

@ Hoerner YMCA
Apr 15 @ 5:30 pm – 6:30 pm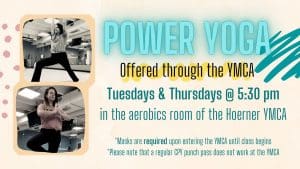 Every THURSDAY  from JAN 21st – May 31st AT 5:30 PM – 6:30 PM
YMCA Power Yoga
Hoerner YMCA
Power into your weekend with yoga! Take your Thursday evening into a less stressful Friday by powering through strong asana poses with intentional breathwork in this YMCA power yoga class!
Definitely dress to move and sweat as this class is meant to keep your heart rate up and keep you moving. Be sure to bring your mat, a yoga towel–or regular towel–in case you get sweaty, and a drink (or two).
This class is offered through the YMCA. For members, you will need a class punch pass, which is $25; for non-members, you may purchase a class punch pass through the Y for $75 without purchasing a membership. Call 319.524.6724 for more information!
**Those who are physically active–in yoga or other exercises–will have a better experience with power yoga; however, all are welcome! Do what you can with what you have day-to-day.**
**Remember you do not have to do every pose! You can take breaks! You are the "you expert" and you know what is best for your body!*
She Rock on Z93

@ Beef, Bread, & Brew
Apr 15 @ 6:00 pm – 7:00 pm
Live from Beef Bread and Brew it's "She Rock – The Ultimate Lady Talk".
Keeping it real and relevant, join the ladies of Radio Keokuk: Steff, Leah & Meleiah, along with their sponsors. We've got local experts and real ladies. Join us Thursday nights at 6pm for the buy one get one FREE appetizers and specials on drinks!
You may also listen live on Z93.9, RadioKeokuk.com, or the Radio Keouk App!
Apr
17
Sat
Earth Day Community Cleanup

@ Tolmie Park
Apr 17 @ 8:30 am – 10:30 am
Gather your friends and family, your church & youth group, clubs & colleagues for Earth day Community Clean-up April 17th 8:30a-10:30am at Tolmie Park! There will be coffee and refreshments before we head out into the community to rid our streets and sidewalks of litter and trash. Sanitation supplies will be provided.
To register your team, contact the chamber at 319-524-5055!
Apr
19
Mon
Dudes with No Name

@ Chintzs
Apr 19 @ 6:00 pm – 7:00 pm
---